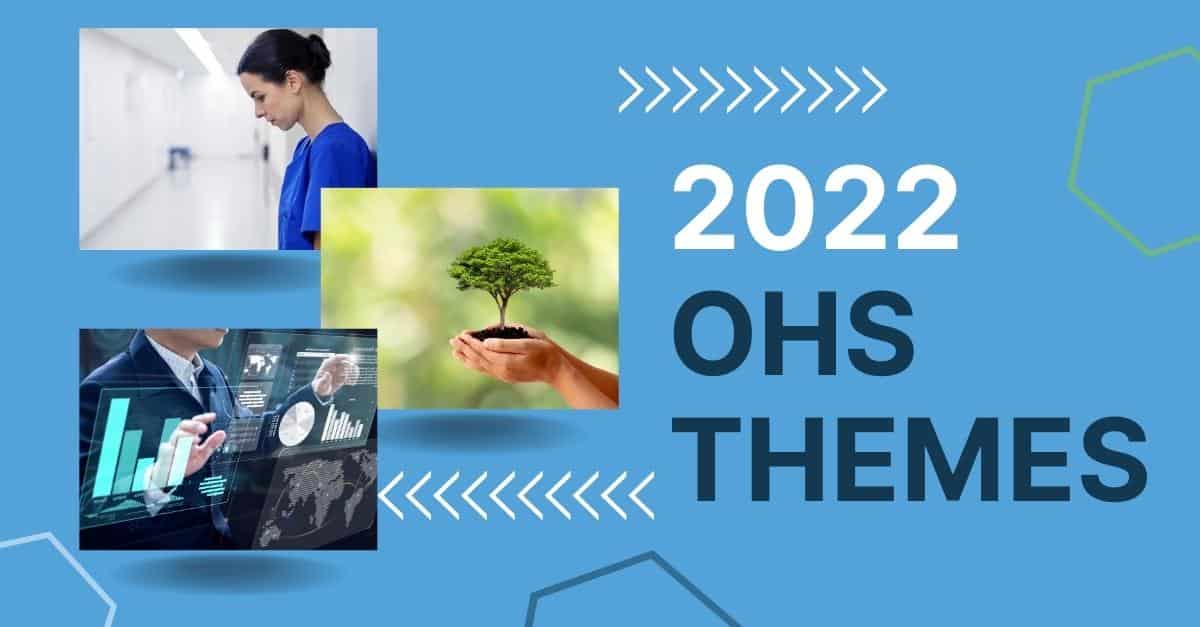 As 2022 ends, we reflect on the major themes that drove conversation and strategic planning in Occupational Health and Safety (OHS) this year. From decreasing emphasis on Covid-19 to growing focus on ESG and sustainability, mental health, remote auditing, business continuity, and more.
Read about five key trends in OHS for 2022…
🌎 Environmental, Social, and Governance (ESG) and Sustainability
ESG and sustainability received plenty of coverage in the boardrooms and media all year. It's an important movement that we believe should be the cornerstone for how industries do business.
The emphasis on this will increase as we face further challenges around a growing population, depleting natural resources, and climate change. These challenges are presenting themselves ever more intensely, and the world is taking notice.
In business, for instance, it's increasingly important for organizations to be able to provide stakeholders with credible and defensible evidence of their due diligence, corporate governance, risk management strategies, and compliance. Stakeholders will decide whether to invest in, buy from, or partner with that organization based on the quality and the results of these reports.
Businesses are being pressed to tell their story and share more about their business ethos. It's evident that ESG performance will play a critical role in company positioning and the ability to qualify for tendering and future projects.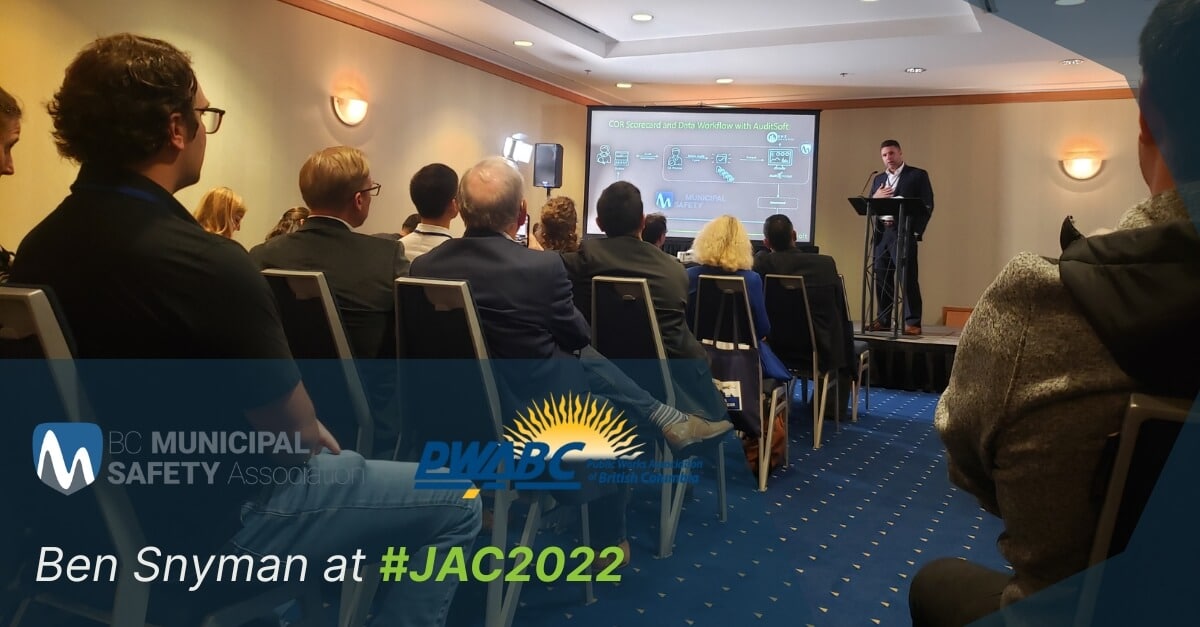 AuditSoft Cofounder & CEO Ben Snyman delivered a talk on ESG and sustainability at the BC Municipal Safety Association x Public Work of British Columbia 2022 Joint Annual Conference & Tradeshow. Here's a snippet of his presentation….
"At the core of ESG and sustainability, is people. Creating accountability and transparency around employee health, safety, and well-being is no longer a nice to have – it's a vital part of doing business in the modern world.

"It has been proven time and time again that investing in the physical and psychological safety and well-being of workers drives productivity and performance. But companies are not collecting and reporting on enough relevant data to measure whether their people and sustainability initiatives are working.

"This is the challenge that AuditSoft solves. We are unlocking that data and putting it into the hands of decision-makers so they can make more intelligent decisions around safety and demonstrate due diligence."
Organizations that are yet to embark on the ESG and sustainability journey and begin the process of being able to demonstrate due diligence, need to get started now to help future-proof their business.
AuditSoft recently launched a directory of health and safety associations that can support organizations on their journey to COR certification.

🦠 Covid-19 and the Return to 'Normal'
The world has largely now adopted a 'living with Covid' policy. The virus remains and so does advice on vaccines and isolating when ill, but we've otherwise said goodbye to travel restrictions, lockdowns, and most mask mandates.
People are returning to the office, eating out at restaurants, and travelling abroad. But the lasting effects (positive and negative) from the pandemic seem here to stay. Below are modifications that appear to be new norms.
💻 Remote Auditing
Auditing remains the best way to measure if a safety program meets the high standards of national and regional industry groups.
As the need for organizations to showcase corporate due diligence and compliance has grown, so has the need for auditing. The pandemic, however, forced the OHS industry to modify standard auditing processes like onsite interviews and observations. Auditors experienced the efficiencies of virtual meetings and are now looking for ways to incorporate them when suitable.
If remote audits are to continue, then the industry/organizations need:
An audit program that can adapt and provide the auditor with more flexibility while maintaining credibility over results.
To better leverage local resources and auditors to assist with on-site audit requirements, such as in-person interviews, rather than relying on non-local teams that depend on air travel.
Tools that enable auditors with real-time access to information and the ability to collaborate.
AuditSoft drives standardization to ensure audit results are reliable, credible, and repeatable. Our cloud-based platform enables collaboration, automates administrative tasks, and reduces auditing time by up to 60%. Learn more about our OHS auditing software.
📉 Increasing Emphasis on Business Continuity
The pandemic that hit in 2020 left businesses across the globe struggling to get workers online, products on shelves, and services resumed following government lockdowns. One study in the US found that 41.3% of small businesses had to temporarily close during the pandemic.
The shock felt by businesses at the onset of Covid has led to a renewed focus on business continuity and contingency planning – with three areas gaining the most attention.
Most prevalent areas for business continuity planning: 
– Covid/pandemic planning
– Crisis situations
– Security and privacy risk mitigation
Covid/Pandemic Planning
Covid-19 proved to employers that workers don't always need to be physically in the office to be productive. It also reaffirmed that viruses spread quickly throughout office spaces. As businesses continue to rethink their remote work policies and workspaces, the era of spending five days a week at a desk in an open-plan office may well be over.
Or not, in some cases…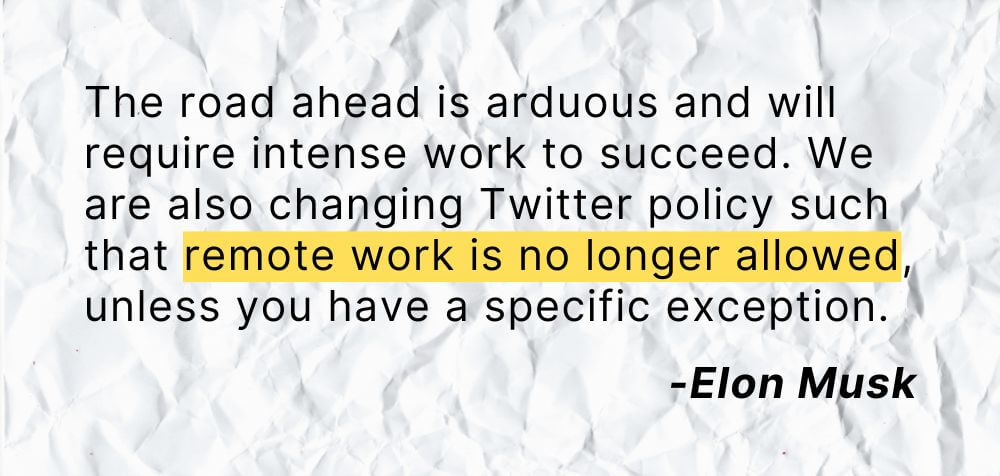 Crisis Situations
Thankfully, Covid has been downgraded from an active crisis, but there is still a dizzying amount of uncertainty in the world. It's understandable that organizations are increasingly focussed on mitigating risks associated with factors long considered outside of their control.
Watch Control Risks' Top Risks for 2023
Security and Privacy Risk Mitigation
Unfortunately, we continue to see an increase of companies in the headlines for data breaches. Exacerbating the damages to brand and client loyalty, these organizations face hefty fines.
A recent IBM report found that data breaches cost Canadian companies an average of $7.05 million CAD per incident this year. That's up from $6.75 million CAD in 2021.
According to the report, stolen or compromised user credentials were the among the most common types of data breaches. It also found companies that consistently utilized security measures paid less per breach, at $4.31 million CAD, compared to $8.09 million CAD by companies that didn't.
IBM put the top five countries/regions with the highest average cost of a data breach in 2022 as:
The United States — USD $9.44 million
The Middle East — USD $7.46 million
Canada — USD $5.64 million ($7.05 million CAD)
The United Kingdom — USD $5.05 million
Germany — USD $4.85 million
As we continue to see more emphasis on business continuity and contingency planning, expect to see more companies adding titles like Chief Risk Officer, Chief Privacy Officer, and Chief Medical Officer to their boards.
🧠 Mental health
Frontline Workers
Covid-19 put a much-needed spotlight on mental health. Isolation impacted many people, and we have witnessed that unfold into various situations across workplaces and society.
Having already borne the brunt of the pandemic, first responders, flight staff, and food service employees alike have seemed to face an endless torrent of abuse.
For example, Starbucks, the world's largest coffeehouse chain, announced it had to close 16 stores in the US earlier this year due to safety concerns. In a letter to employees dated July 11, Debbie Stroud and Denise Nelson, Senior Vice Presidents of Starbucks' US operations, said:
"…You're also seeing firsthand the challenges facing our communities—personal safety, racism, lack of access to healthcare, a growing mental health crisis, rising drug use, and more. With stores in thousands of communities across the country, we know these challenges can, at times, play out within our stores too. We read every incident report you file—it's a lot…"
Other incidents and stories involving front-line workers that made headlines this year: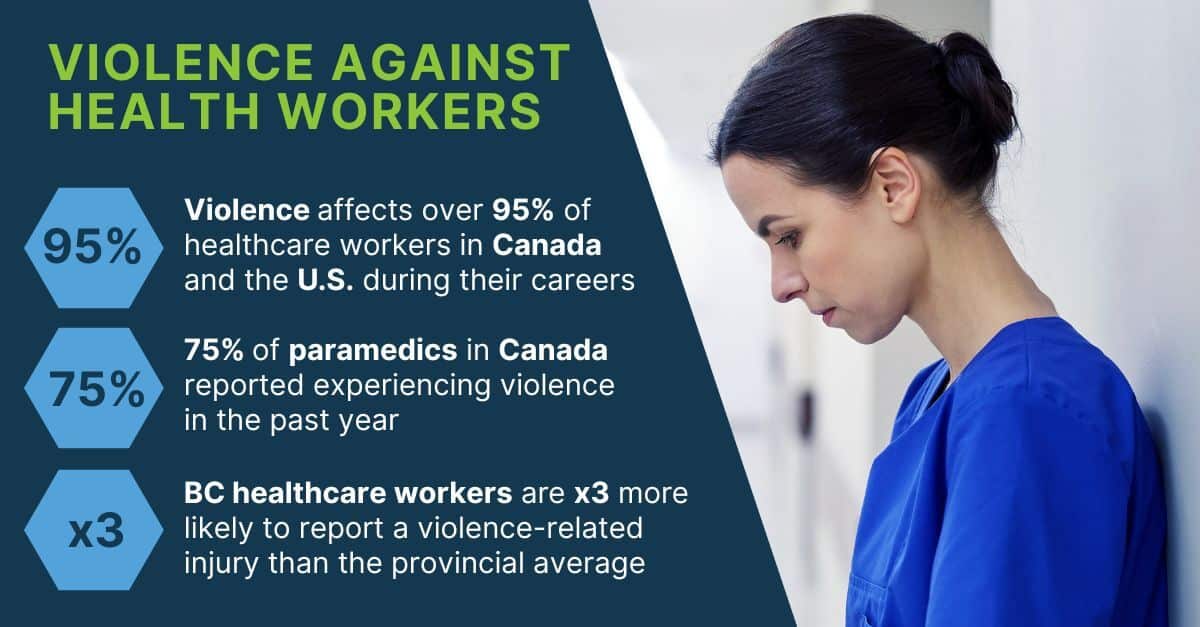 Unfortunately, there have been too many high-profile incidents of violence involving healthcare workers in recent years.
Research from Canada and the United States estimates violence affects more than 95% of healthcare workers through the course of their careers.
Emergency health workers bear a disproportionate amount of that. In a 2014 study of paramedics in Canada, as much as 75% reported experiencing violence in the past year.
BC Nurses' Union president Aman Grewal said the true number of attacks is "significantly" higher because many incidents are never reported.
"This isn't acceptable behaviour in banks or grocery stores in any public forum. Yet it's been so normalized in nursing and in healthcare," said Grewal.
New Mental Health Resources
In other mental health news, we also saw the creation of new resources launched to promote psychological safety in the workplace.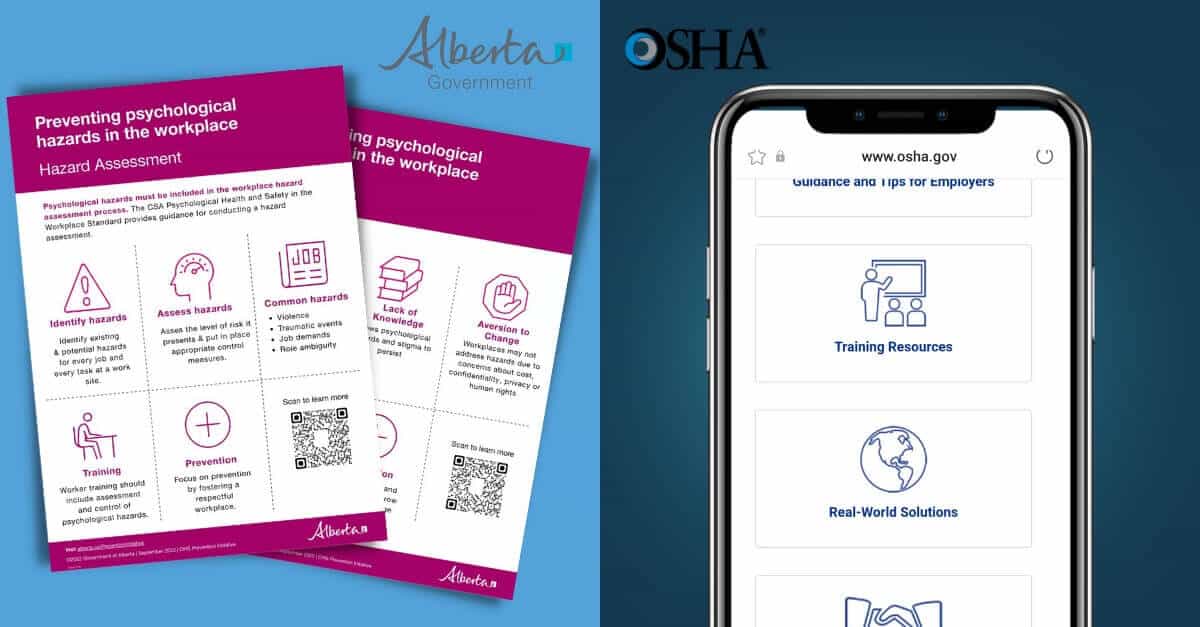 The Government of Alberta released a library of new assets to help users identify and respond to psychosocial hazards in the workplace. While in the US, the Occupational Safety and Health Administration (OSHA) launched a new webpage to help employers and workers manage workplace stress and mental health challenges.
OSHA's new webpage contains important mental health statistics:
For every $1 spent on ordinary mental health concerns, employers see a $4 return in productivity gains.
Nearly one in five US adults live with a mental illness.
83% of US workers suffer from work-related stress and 54% of workers report that work stress affects their home life.
Psychological safety and better mental health support in the workplace are areas AuditSoft has been trying to improve for years. To help employers and employees, we developed training courses to educate and inform workforces. We recommend reviewing the courses provided by our sister company, SafetyVantage. SafetyVantage provides quality online safety courses that have been designed by experts to engage users – with almost 2,000 reviews to prove it. 
Here are 3 courses from SafetyVantage to improve psychological workplace safety:
🚀 Heading into 2023…
We expect to see these trends continue to make headlines in 2023 and beyond, and remain positive that technology and education will play a major role in reducing risks and improving employee welfare.
Find out where we see associations focusing their 2023 budgets in our next blog!