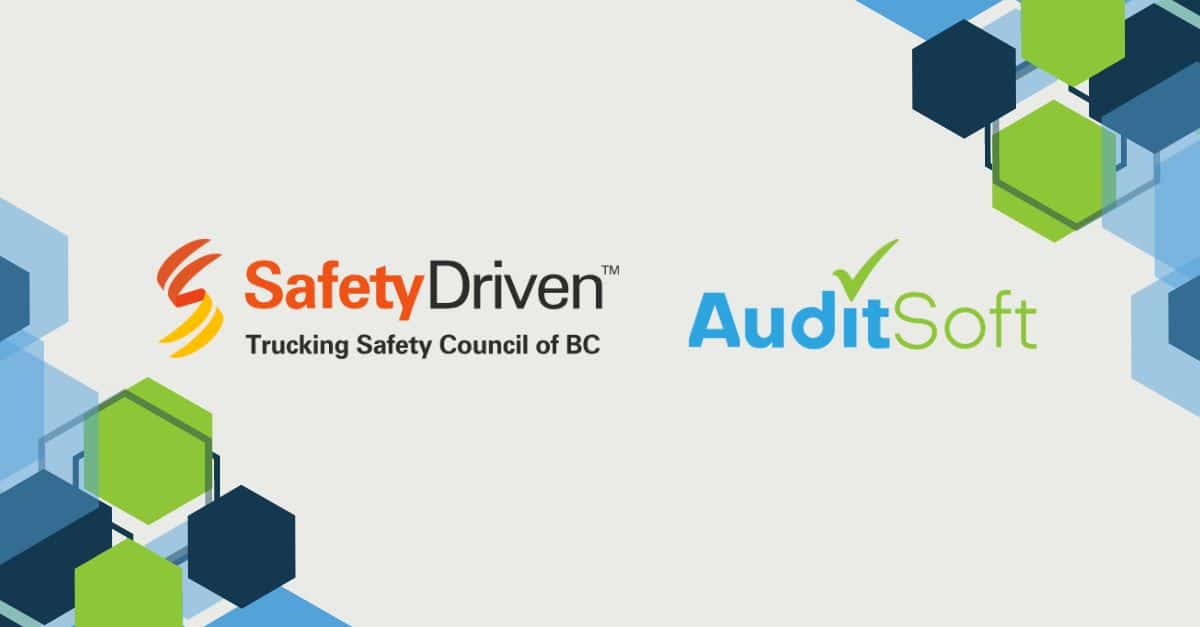 Calgary, AB – AuditSoft, the leading Occupational Health and Safety (OHS) auditing software, has been selected to provide auditing and data analytics solutions to the Certificate of Recognition (COR) program offered by SafetyDriven – Trucking Safety Council of BC.
The partnership with SafetyDriven, which is based in Langley, British Columbia, means AuditSoft now supports the trucking industry in all of Canada's Western provinces. It follows a number of new partnership announcements from AuditSoft, which continues to grow and disrupt the COR auditing industry with user-friendly solutions that standardize auditing and drive business intelligence.
"Demand for COR continues to grow, and forward-thinking associations are searching for ways to make the COR auditing process more efficient and effective," said Ben Snyman, Cofounder and CEO of AuditSoft. "AuditSoft is proven to reduce COR auditing time by up to 50% whilst unlocking a wealth of OHS information. SafetyDriven will be deploying the AuditSoft suite of software to streamline their auditing and quality assurance process, and we're thrilled to be supporting their COR program."
As the administrator of WorkSafeBC's COR program for the transportation and warehousing sectors, SafetyDriven provides guidance to employers and owner/operators on how to obtain their Certificate of Recognition by creating an efficient operation that is committed to workplace safety and effective injury management. Companies who achieve COR are eligible for a 10 percent rebate on the previous year's WorkSafeBC premiums.
"SafetyDriven is committed to the elimination of workplace injuries and fatalities across BC's trucking and supply chain industries through the delivery of COR. AuditSoft will add value to the COR auditing process, and our clients will benefit greatly from its auditing and data analytics solutions," said Earl Galavan, COR Manager at SafetyDriven.
Learn more about AuditSoft for COR.
About AuditSoft
AuditSoft is the leading OHS auditing software. Associations and Certifying Bodies partner with AuditSoft to supply their members with cutting-edge auditing tools and unlock valuable audit insights. Each year, AuditSoft is used to conduct thousands of audits in high-risk industries across Canada. Find more information on AuditSoft at www.auditsoft.co
About SafetyDriven
SafetyDriven is a not-for-profit Health and Safety Association that delivers training, services, mentorship, safety certification and programs for reducing injuries and fatalities across transportation and related supply chain industries. As the administrator of WorkSafeBC's COR program for the transportation and warehousing sectors, SafetyDriven's programs provide guidance on how to create an efficient operation that meets the standards for a COR audit. For more information visit www.safetydriven.ca.
Media Contact:
For further information contact: [email protected]