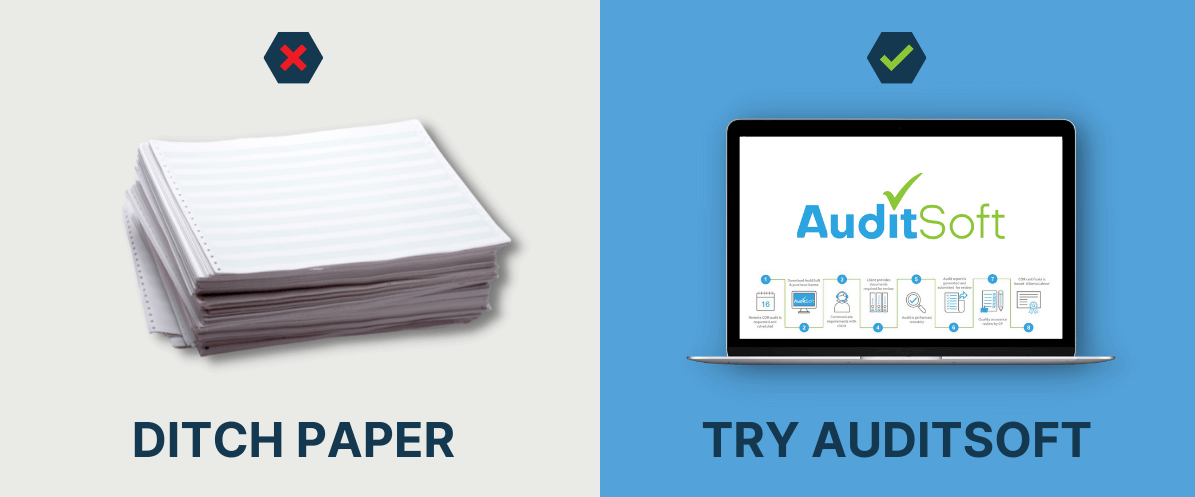 Did you hear that there's a new way to carry out OHS audits? One that doesn't involve paper!
AuditSoft is a cloud-based application that lets you complete your entire audit digitally – and it's saving users a substantial amount of time and effort on the traditionally long and complicated process of auditing.
Audits are critical to workplace health and safety. They ensure that company OHS Management Systems comply with the high standards of national and regional industry groups. Yet they've always been so difficult and fragmented to perform.
That's because auditing by paper is restrictive and inefficient. It causes errors, prevents collaboration, and forces you to do everything manually.
The good news is that no one needs to audit this way anymore. AuditSoft eliminates many of the unnecessary tasks involved in auditing!
Here are five quick reasons to ditch paper and go digital on your audits.
1. You'll make fewer errors
Rummaging through a hundred sheets of paper is not the best way to review an audit.
AuditSoft lets you see all your elements and scoring in one place – colour-coded for easy recognition of problem areas.
Plus, with our software, you'll get notifications on missed sections and approaching deadlines. So you'll never get caught out with a late or incomplete audit again.
2. You'll save copious amounts of time and effort
Paper is the enemy of efficiency.
It has no place in a critical and complex process like auditing in 2022.
Imagine instead, an app that lets you do your entire audit in a single workflow, with built-in guidelines, automated scoring, and one-click report generation. Think about how much time you could save.
(AuditSoft users report saving up to 70% of their time on audits.)
3. You'll never lose an important audit document again
Say goodbye to that feeling of despair when you discover you're missing a document.
And with AuditSoft, your digital data is safe too. Our cloud-based software creates automatic backups of your audit at 20-minute intervals – with additional options to guard against data loss due to hardware failure or human error.
4. You'll be able to collaborate on team audits
By switching from paper to digital, you'll finally be able to conduct team audits in a truly collaborative manner.
That's because the AuditSoft platform enables up to 20 users to work together on audits at the same time! Get your team on AuditSoft and discover just how efficient you can be when you work together collaboratively.
5. It's better for the environment
While paper-based audits are unlikely to be the main cause of our planet exceeding 2℃ in warming, we are all being asked to make more sustainable choices – and this is an easy one to commit to.
Just as it was probably easy to say goodbye to paper-based taxes or bank statements.
The new and easy way to conduct OHS audits is right at your fingertips. Say goodbye to paper and try AuditSoft today.