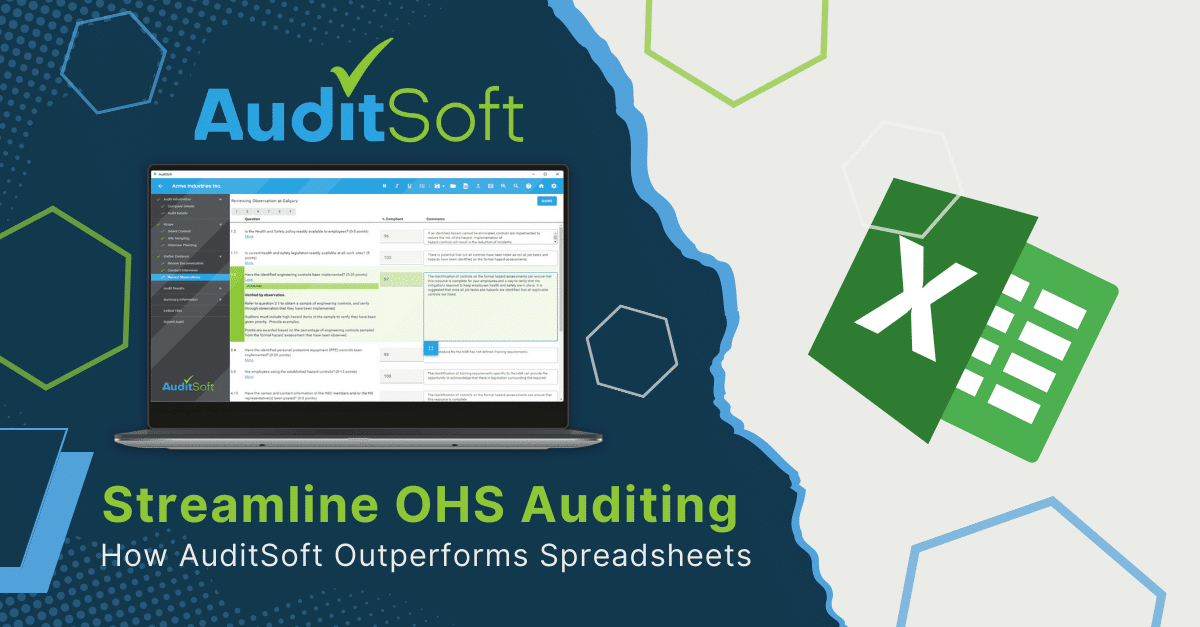 Manual, fragmented, complicated – those are some of the words we would use to describe auditing with spreadsheets.
The good news is that no one needs to audit this way anymore…
AuditSoft has transformed the OHS auditing process into a single seamless application, powering thousands of audits across all industries in Canada every year.
Spreadsheets, however, have played a significant role in OHS auditing for some time, and moving to a new solution can be daunting. So, allow us to explain why this one will help advance the OHS industry and benefit all audit stakeholders.
While spreadsheets have been a useful tool for creating audit templates, there are several potential problems associated with using them.
Problems with using spreadsheets in OHS auditing:
❌ Data entry errors: Spreadsheets can be prone to data entry errors, which can compromise the accuracy of the audit.
❌ Version control: Spreadsheets can be difficult to manage when multiple people are involved, especially when it comes to version control. This can lead to confusion and rework if people are working on different versions of the same template.
❌ Limited functionality: Spreadsheets have limited functionality compared to purpose-built audit software. For example, they lack features like automated scoring, data visualization, or formatted report generation, which can make the audit process less efficient and more time-consuming.
❌ Lack of integrity: Spreadsheets can be vulnerable to manipulation – resulting in compromised audit data.
❌ Maintenance issues: As audit templates become more complex and data-intensive, it can become difficult to maintain spreadsheets over time. For example, adding new questions or changing the structure of the audit may require significant manual effort, which can be time-consuming and error prone.
❌ Data: Due to the lack of standardization, even with semi-consistent spreadsheets, it is very difficult to consolidate data in a single standard format for analysis. This is one of the biggest single shortcomings of the spreadsheet-based system.
A new era of OHS auditing with AuditSoft
AuditSoft captures all audit tasks in a single, easy-to-navigate workflow and automates the frustrating administrative activities that unnecessarily consume time and cause errors.
Our award-winning software adds value to OHS auditing by powering:
✔️ Efficiency
A simplified workflow, automations, and features like one-click report generation reduce OHS auditing time by 30 – 50% – enabling auditors to provide a faster service.
"The AuditSoft software is so easy to use and the efficiency that it brings to the auditing process is great. I have been able to provide faster service and completion to my clients. I recommend AuditSoft to Auditors and the Associations that haven't yet signed on." – OHS auditor
✔️ Standardization
Built-in guidelines and rules promote inter-auditor consistency and drive standardization – ensuring reliable, repeatable, and defensible audit results (as well as shorter audit QA times for associations).
✔️ Insights
Standardized audits are deconstructed to provide element and question-level scoring and peer-to-peer comparison, with intelligent suggestions for improvement provided – unlocking data-driven decision-making.
With AuditSoft, auditing is seamless and efficient. Safety decisions are fueled by data and guesswork is eliminated. Use AuditSoft for your next audit!