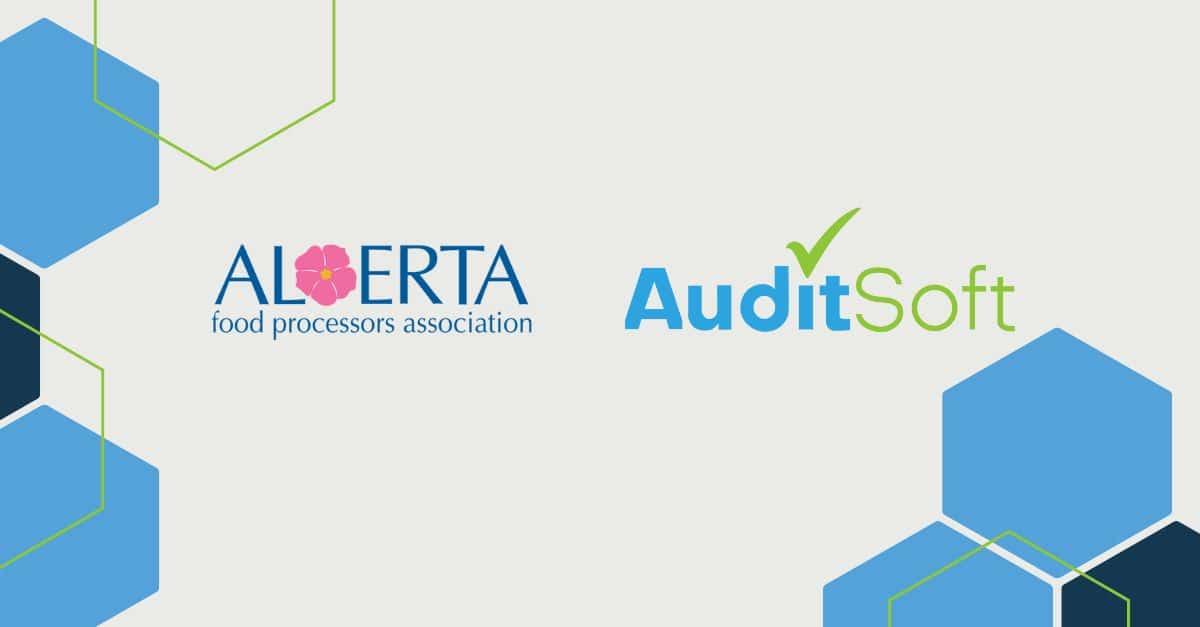 Calgary, AB – The Alberta Food Processors Association (AFPA) has onboarded AuditSoft's auditing and data analytics solutions to support its Certificate of Recognition (COR) program. AuditSoft's solutions will bring efficiencies to the COR auditing process and unlock audit data to drive business intelligence.
Demand for COR in Alberta continues to grow, and the Government of Alberta recently brought in changes to streamline the COR auditing process.
"We're seeing demand for COR increase in just about every province in Canada," said Ben Snyman, Cofounder and CEO of AuditSoft. "That's creating a need to make the COR auditing process simpler and more efficient, which is exactly what AuditSoft does. AFPA recognizes the role that technology has to play in improving the COR auditing process, as well as the value of data in driving continuous improvement. We're thrilled to be working with them to support their COR program."
Since 1974, AFPA has been committed to building the competitive advantage of its members, which represent all segments of Alberta's food and beverage industry, from growers to retailers. AuditSoft's data analytics platform, AuditXchange, will provide member firms with deeper insights into their audit results, including how their score compares to others in their industry.
"AFPA's mission is to build the competitive advantage of our members and AuditSoft's COR solutions will help us do that", said Melody Pashko, General Manager of AFPA. "The insights that AuditSoft provides will enable our members to make more intelligent decisions around their safety programs, and the data will help us understand where they are needing more support. It will also make the auditing process vastly easier for our auditors."
Two notable changes came into effect on January 1, 2023, to Alberta's COR program:
The full use of all three audit techniques has been restored (documentation, observation, and interview)
New audit instruments have been implemented by certifying partners like AFPA to improve the audit process and make the revisions necessitated by the OHS Act
At the onset of the pandemic, temporary changes were made to the COR program to allow Alberta employers to maintain COR and to enable auditors to maintain their auditor certification status and work remotely. That included audits being limited to documentation review. AuditSoft was able to implement these changes within hours to avoid disruption. The changes to Alberta's COR for 2023 have also been reflected in AuditSoft's solution.
AFPA is the latest of a growing list of associations to onboard AuditSoft's COR auditing solutions, with the firm having announced a series of new partnerships over recent months.
Learn more about AuditSoft's COR audit tool and data analytics platform.

About AuditSoft
AuditSoft is the leading OHS auditing software. Associations and Certifying Bodies partner with AuditSoft to supply their members with cutting-edge auditing tools and unlock valuable audit insights. Each year AuditSoft is used to conduct thousands of audits in high-risk industries across Canada. Find more information on AuditSoft at www.auditsoft.co
About AFPA
Alberta Food Processors Association (AFPA) is a non-profit organization representing all segments of the $15 billion food and beverage industry including growers, processors, retailers, foodservice buyers and suppliers since 1974. Find more information on AFPA at www.afpa.com
Media Contact:
For further information contact: [email protected]