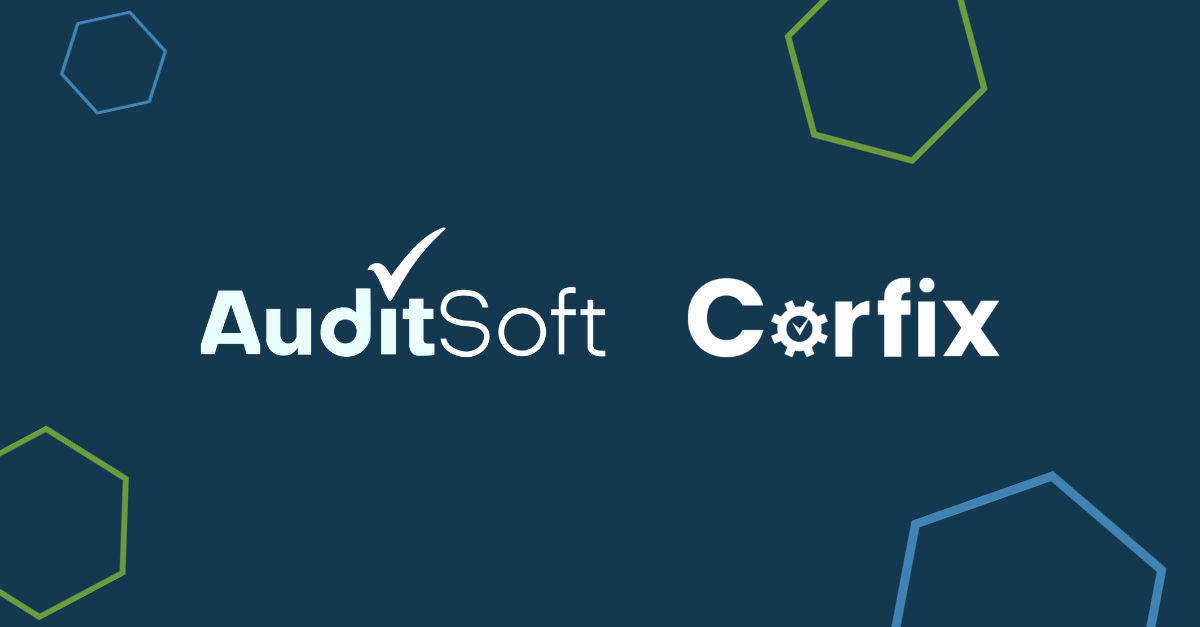 Ottawa, ON [October 16, 2023] – Today, AuditSoft, North America's leading safety and compliance auditing software and award-winning jobsite safety software Corfix announced their partnership to revolutionize auditing across North America's construction industry.
This new collaboration streamlines safety and compliance auditing by integrating Corfix's industry-leading platform with AuditSoft's new Open API, enhancing the user experience significantly. Users can now integrate essential safety documents, worker certifications, and filled-out forms directly into their audit reports, eliminating the need for manual data transfers. This upgrade streamlines the audit process and ensures a seamless connection with AuditSoft's auditing capabilities, offering Corfix clients a blend of efficiency and a user-centric approach for a more refined auditing experience.
Transitioning the construction safety management process into a digital realm has brought about major improvements for businesses. This new integration not only addresses the inefficiencies but also eliminates the manual challenges of linking the right documents to audits. Enabling safety professionals to quickly and easily access relevant safety documents paves the way for more efficient occupational health and safety audits.
"Our partnership with Corfix is a testament to our continued commitment to transform safety and compliance auditing," said Ben Snyman, CEO of AuditSoft. The integration eliminates inefficiencies and manual document handling in safety audits, empowering safety professionals with a seamless and user-friendly auditing experience that will take us closer towards a safer and more efficient construction industry."
"Partnering with AuditSoft felt like a natural fit for us," said Shawn Watts, Co-Founder and CEO of Corfix. "Our company's goal is to make life easier for every worker on the jobsite – getting rid of any unnecessary steps like manual data re-entry is a huge part of that objective. Corfix exists to make working safely easy and effortless, and this integration is an important step in that process."  
There's a clear trend in the construction sector, with data pointing to unprecedented investments in specialized platforms like environmental, health, safety, and quality (EHSQ) to boost operational effectiveness and cut down on risks. As the industry landscape shifts and companies pivot to embrace these changes, creating interconnected EHSQ ecosystems becomes essential, ensuring they're equipped for both present demands and future challenges. The AuditSoft Open API simplifies the onboarding process for clients, facilitating seamless integration with existing systems like Corfix.
About AuditSoft:
AuditSoft is the leading safety and compliance auditing software. Associations and Certifying Bodies partner with AuditSoft to supply their members with cutting-edge auditing tools and unlock valuable audit insights. Each year, AuditSoft is used to conduct thousands of audits in high-risk industries across North America. Find more information about AuditSoft at www.auditsoft.co
About Corfix:
Corfix is a cloud-based safety and project management software designed by former construction workers to streamline workflow and be a seamless addition to the jobsite. From one user-friendly tool you can send and sign forms, assign tasks, track progress, access binder materials and proof of certification, as well as tracking hours and workers. Easy to adopt and full of features that will promote transparency, efficiency, and profitability – without getting in your way. To learn more about Corfix, visit: www.corfix.com